TEAM EFFECTIVENESS PROFILE
TEAM EFFECTIVENESS PROFILE
Quantify Your Teaming with the TEP Report
The Team Effectiveness Profile (TEP) is for teams who want to achieve their highest performance. We developed the TEP over many years, analyzing some 5,000 interviews where we asked team members what was working and not working on their team. The result is the TEP – the most rigorous and complete team effectiveness tool available.
The TEP is built for speed.
The 36-question survey takes six minutes on average to complete.
The TEP report cuts through complexity to provide valuable insights about your team's functioning.  Findings are grouped into FIVE CATEGORIES: 
Key Factors
Team Assembly
Team Alignment
Meeting Processes
Team Dynamics
Data is presented in an easy to use format with color coding to show what is working and what needs to be improved.  The TEP report includes team coaching plans for each underperforming area.
Is the TEP right for your team?  The TEP is suitable for complex teams or groups. Complex teams meet, discuss issues, and make decisions.  They do real work to achieve a common goal and get things done. Team size does not matter although we typically see teams in the 5 to 15 range. The TEP is useful in the private sector, public sector, or non-profits.  The TEP works equally well for cross-cultural and global teams.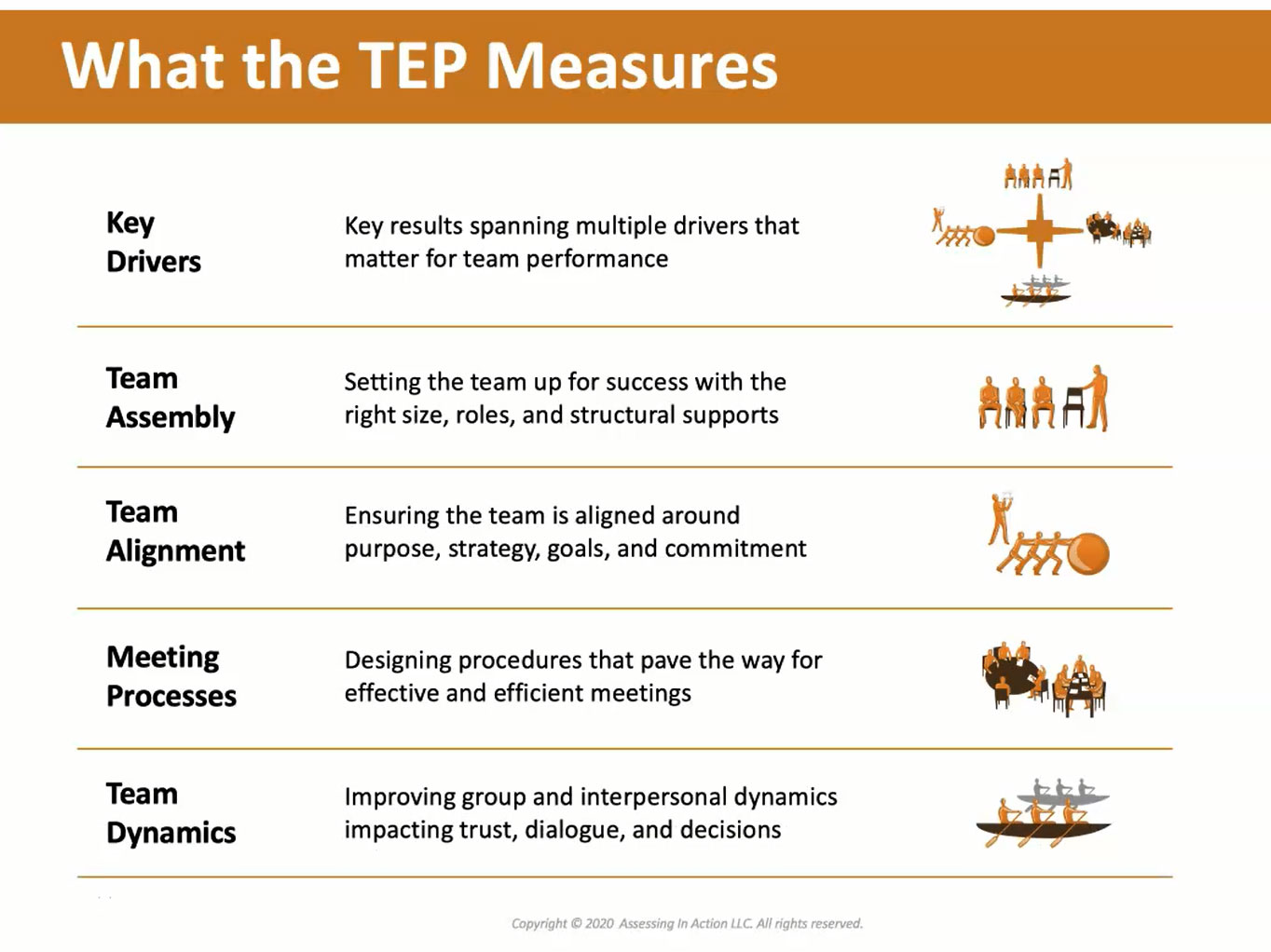 Easy to use – no certification required
Takes 6-minutes for team members to complete the 36-question multiple choice survey
TEP report includes assessment results plus team coaching plans
Useful for complex teams such as management teams, cross-functional teams, functional teams, operational teams, project teams, and virtual teams
Suitable for high performing teams, teams moving from good to great, dysfunctional teams, or teams with a new leader
Designed for quarterly, semi-annual, or annual progress reviews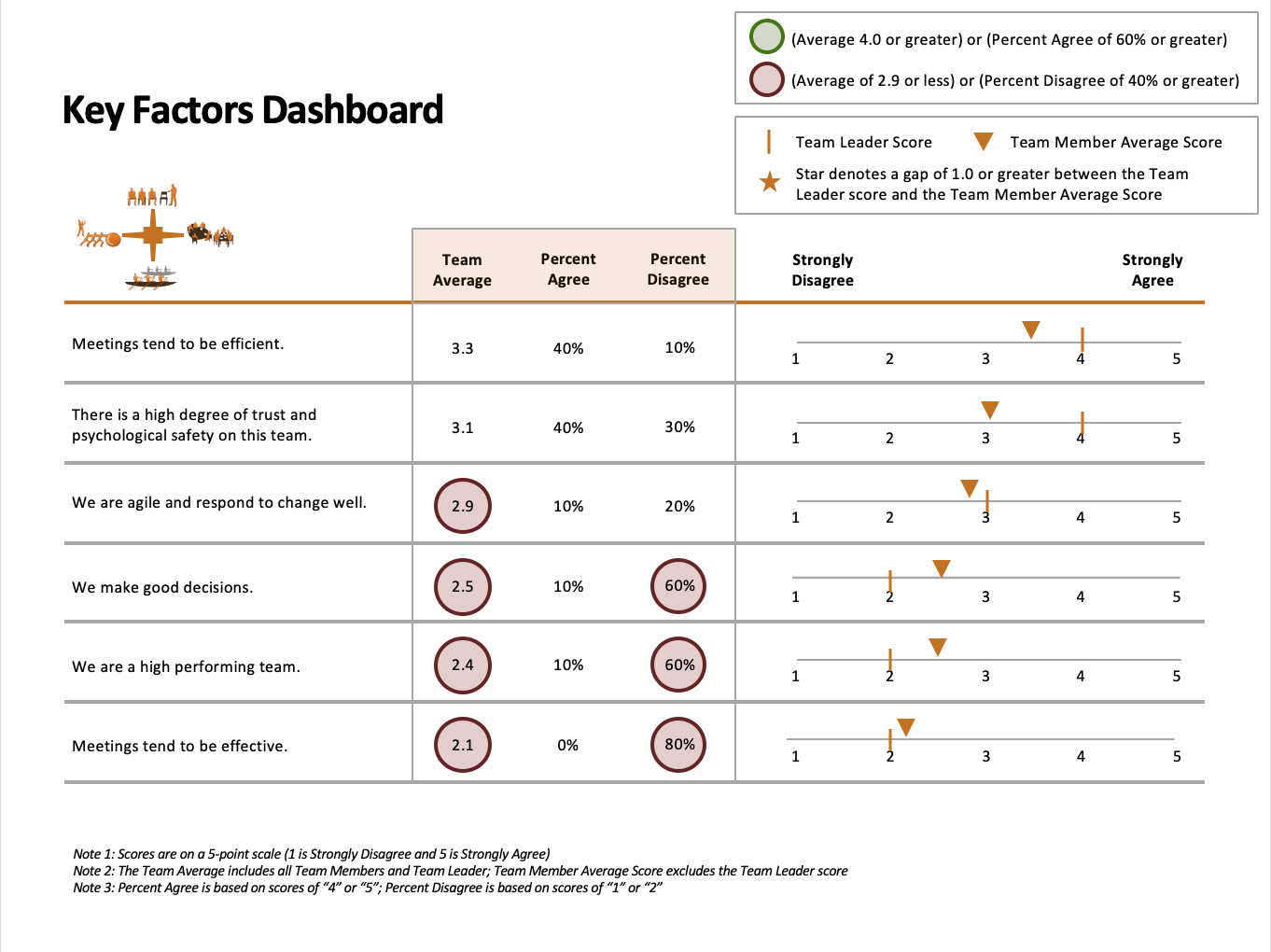 How To Analyze the TEP Report
play video to watch short review of how to interpret the TEP report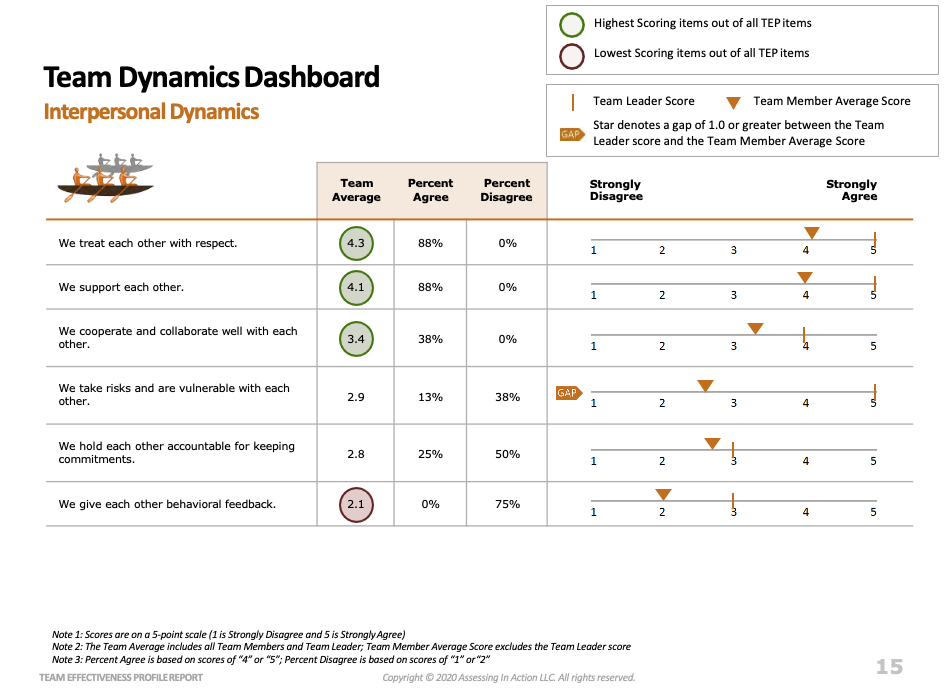 Testimonials

We used the TEP for our team offsite, and it was highly useful for analyzing our team's effectiveness.  We had a spirited discussion and did a deep dive into six or so areas of opportunity.  We left the offsite clear about our commitments for improvement.  I'd highly recommend it.
My CIO or IT administrator has questions about IT security? Is the TEP secure and compliant?
Mark Reitz
2020-12-20T14:52:23-07:00
The security of our clients' information is mission critical for us. To assist us in delivering the highest level of service, we work with one of the most prominent information security and privacy and intellectual property legal teams in the U.S. With their assistance, we do our utmost to protect the confidential information we receive from our clients and to make sure we are in compliance with the privacy laws of every jurisdiction in which we operate, especially the EU's GDPR which sets among the highest standards we have seen in protecting individuals' privacy.
IS YOUR TEAM WORKING OPTIMALLY?
Businesses operate with financial data, which tells them about their financial health. Doctors prescribe lab tests, which tells them about our medical health.
Yet most teams operate without data about their team's health. Team leaders are doing their best but lack the tools to take their teams to the next level.
There is a better way.
Join countless other teams to quantify your teaming and take the first step towards team health and high performance."
Quantify Your Teaming with the TEP Report